R&D is a dance between a number of inter-related practices. When done well, it reliably uncovers new knowledge and
generates solutions that are radically more efficient and/or effective than current approaches.
Building upon the Declaration for Action, here's our current understanding of key practices that lead to strong Social R&D:
Practices for Social R&D v1.0*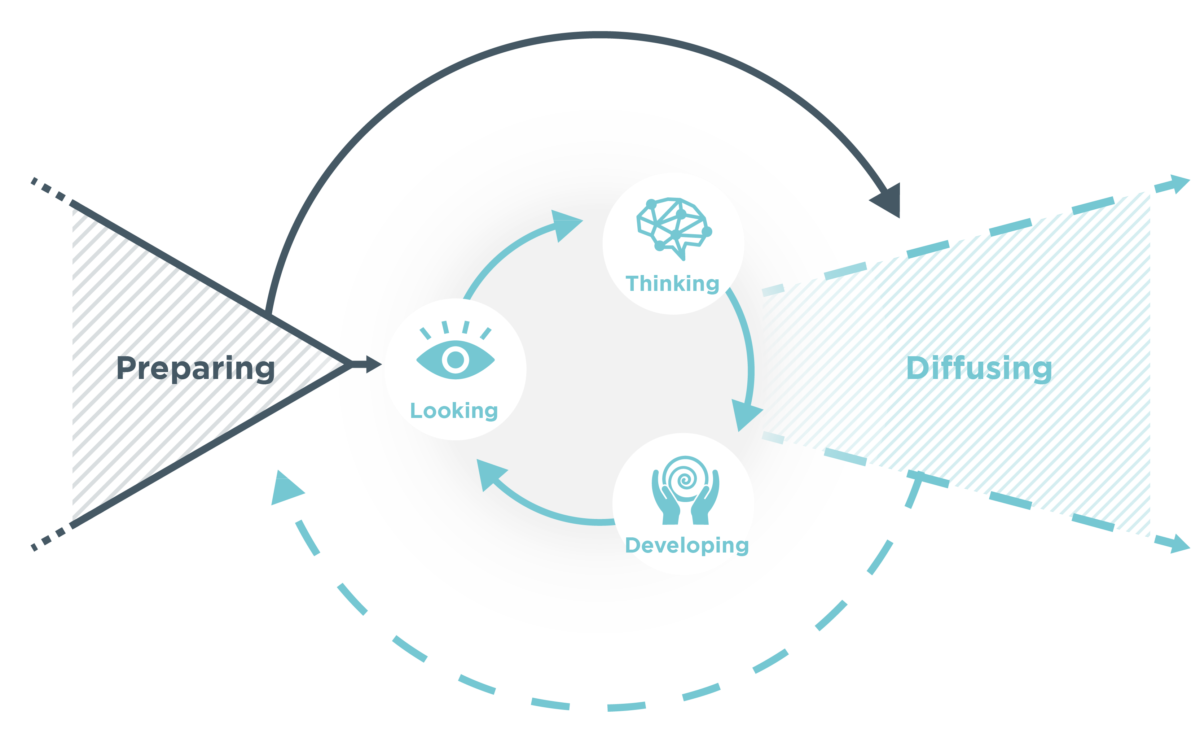 1. Preparing
Building the mindset, resources, skills, and permissions for maximizing impact of R&D efforts

Examples: R&D training and practice, R&D benchmarking, reflective practice, community partnerships and co-production, resource allocations and organizational readiness.
2. Looking
Seeking new pathways for social transformations

Examples: Community-led inquiry, ethnography, lit review, case studies, data sourcing
3. Thinking
Refining observations and insights into a deeper understanding of i) the challenge/opportunity, and ii) the characteristics of new solutions
Examples: Brainstorming, generating hypotheses, leveraging small, big and open data
4. Developing
Converting new and deeper understanding into new solutions, and/or applying it within existing solutions
Examples: Designing and testing, piloting, prototyping, designing feedback loops, co-production
5. Diffusing
Contributing to collective knowledge, socializing innovations and enforcing a strong ethical framework
Examples: Building/sharing capacity, aggregating/sharing lessons from success, failure and process development, leaping by learning
---
*Practices for Social R&D v1.0 was an initiative to capture key ingredients for social mission R&D. The goal of this exploration was to offer practitioners and the sector as a whole a point of reference to share and discuss insights emerging from R&D work across a range of social and environmental change contexts and methods.
Priority updates for v2.0: additional explorations on what "Ethics" infrastructure could and should look like, e.g. lived-experience ethics boards, co-researcher protocols, etc.; and cross referencing the R&D practices of social movements.
Supports to help you strengthen your R&D craft
Case Studies
R&D functions can take a number of guises within organizations. Some have a problem-first orientation and others have a curiosity or discovery-first orientation. Some have a dedicated structure independent from or adjacent to the core business, while others are embedded into everybody's job descriptions. Some are shared across organizations and others are in service to a single organization.
Whether through physical community labs, research centres, dedicated teams, cross-organizational design and prototyping facilities, academic partnerships, or other means, in many organizations social R&D is already happening.
Let's look at a few examples:
Project Kudoz
Social R&D Community member InWithForward is a social design organization that makes human services more human.
Kudoz is a community learning platform. It connects people with and without developmental disabilities to novel experiences in their city. The team is disrupting the stuckness and stagnation that contributes to declining quality of life, greater service dependencies, and rising costs.
---
The Vivo Play Project
Social R&D Community member Vivo is on a mission to raise healthier generations in Calgary and beyond. They want Canadians of all ages to achieve their optimal health at home, school, work and play.
The Play Project is a 10-year initiative to leverage play as a transformation vector to achieve positive 10% shifts – shifts in people's lifestyles, shifts in the care and design of communities and shifts in decision making at organizational and government levels.
Have a case study to share?
We are working on building a Social R&D case study set with examples from across the country.
This deep dive is time-intensive and could use your help. If your team has any resources, case studies or R&D activities to share, please do so!